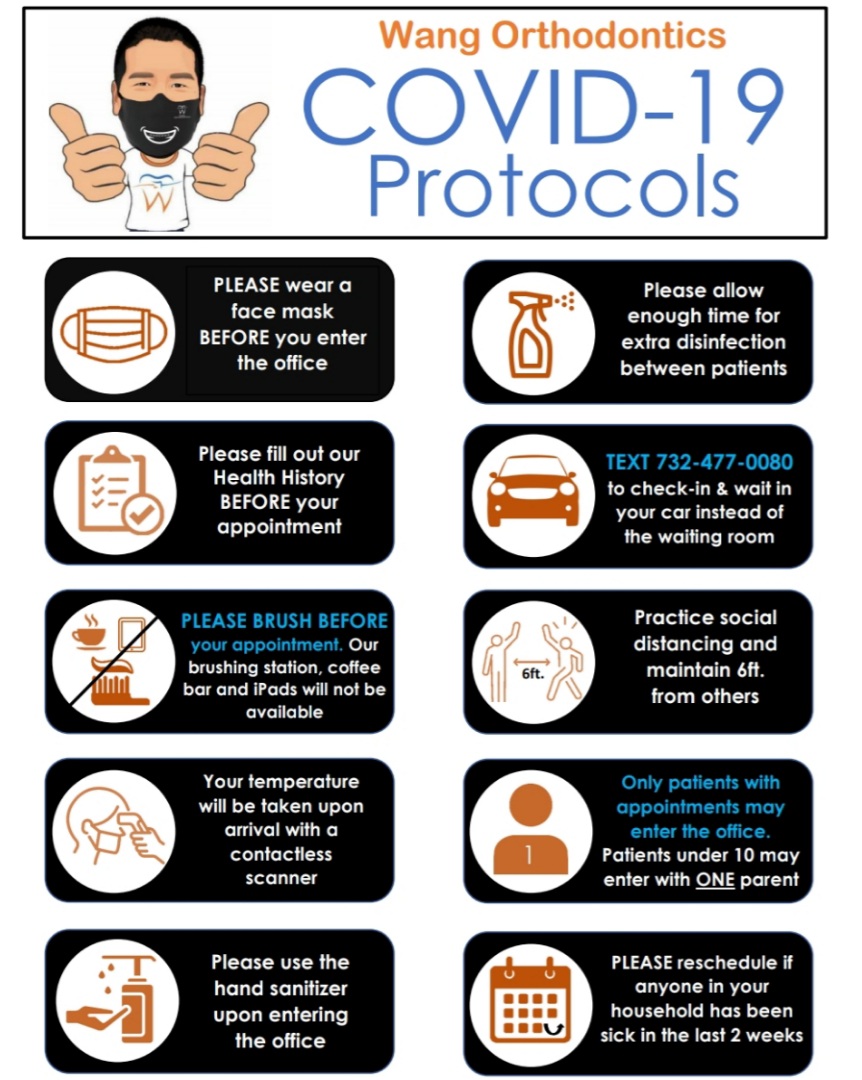 Covid-19 Health Questionnaire
Thank you for your cooperation as we work to keep you, your families,
our staff and communities safe during this time!
REMINDER FOR ALL DENTAL APPOINTMENTS
PRE-APPOINTMENT HEALTH SCREENING:
• You will receive an email two days prior advising of your scheduled appointment date and time, and that our pre-appointment health screening questionnaire must be completed on our Patient Portal
• If you cannot complete online, please call us and we will verbally do the screening with you
• Our pre-appointment health screening form MUST BE COMPLETED 24-48 HOURS PRIOR TO APPOINTMENT FOR EACH CHILD SCHEDULED
• Failure to complete this form will result in cancellation of the appointment
PRIOR TO APPOINTMENT DATE:
• Please ensure we have accurate names and mobile phone numbers for you
• If we do not have accurate information you will not receive a text with important information on arrival procedures that must be followed
• Please inform us PRIOR TO YOUR ARRIVAL if you feel you need to accompany your child into the clinical area, as parents are expected to wait in their car during treatment
 
APPOINTMENT DATE:
• If you DO NOT HAVE TEXT ability, call 732-477-0080 to advise that you have arrived
• We will reply by text for you to either 'accompany your child to the front door' or 'wait in your car for further instructions'
• DO NOT APPROACH THE ENTRANCE UNTIL YOU ARE ADVISED TO DO SO
• ALL PATIENTS MUST BE BROUGHT INTO THE OFFICE WITH A PARENT OR GUARDIAN
• Anyone entering our offices MUST HAVE A FACE COVERING
• Please do not bring any unscheduled siblings or infants in a car seat as they will not be allowed into the office
• Upon entering the building temperatures will be taken for you and your child and we will repeat the health screening questionnaire
• We will escort your child to the clinical area, and you will be asked to return to your car, since we are trying to limit the number of people in our office
• Our doctors may text you during the visit, so please keep your cell phone handyYou will be notified by text when we are finished and asked to meet your child outside at the EXIT door and we will contact you to schedule any appointments
To avoid in person transactions:
• We will contact you following your visit to schedule any appointments as needed or to make any payments needed
Updated Scheduling Protocol
VERY IMPORTANT NOTE: OUR SCHEDULING PROTOCOL IS TEMPORARY AND AS SOON AS IT IS SAFE FOR YOU, YOUR CHILDREN AND OUR DOCTORS AND STAFF, WE WILL RESUME NORMAL SCHEDULING.
• We will be adding time to appointments to prevent large numbers of individuals in our offices, allow for social distancing, and time for increased sterilization.
• Although we will do our best, we may be unable to accommodate all requests for a particular doctor or appointment.
All persons entering our offices MUST wear a face covering
(except for children under the age of 2)
• Parents of children over Age 10 must remain in their car during appointments
• ONLY the child scheduled will be allowed in the office. Any unscheduled persons (sibling, infant in car seat, friend, or family member) must wait in the car, NO EXCEPTIONS.
• Our restrooms will be for employees only. PLEASE plan accordingly before arrival to your appointment.
• All persons entering will have their temperature checked and we will ask health screening questions. Then the child will be escorted by a staff member to the clinical area.
• Upon completion of treatment a staff member will escort the child to the EXIT (which will be marked outside the building and separate from the ENTRANCE).